Some of the products we offer at Washington Square Dermatology include, but are not limited to: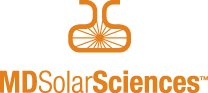 Part of our mission at MDSolarSciences™ is to inform our customers about the science behind our mineral sunscreens–delving deep into our mineral traits as well as what differentiates us from other sunscreens.
Titanium dioxide (also known as "titania") and zinc oxide (or "zincite") are our two active (effective) ingredients in our sunscreens. Both natural minerals, they occur from the oxidization of those particular metals (titanium and zinc).
Natural minerals such as these are non-oily. Since we refrain from integrating preservatives, greasy, pore-clogging lubricants, as well as fragrances and other chemical actives, our mineral sunscreens sustain their natural characteristics. All of these factors combined give our products their appeal—soft application, weightless yet moisturizing, and easy absorption. They are safe enough to use on those of us with acne, rosacea and other skin sensitivities.
The sun-shielding benefits of MDSolarSciences™ mineral sunscreens are also remarkably strategic: zinc oxide is the only broad spectrum UVA and UVB reflector. Thus, applying MDSolarSciences™ sunscreen will reflect these harmful rays off your skin. Titanium dioxide provides robust UV-light absorbing abilities. Combined together in our sunscreens, these agents provide the safest and most effective protection from the sun. Other sunscreens may be full of abrasive ingredients and harsh chemical additives, and may fail to provide protection from both UVA and UVB rays.

Soothing skincare products and hydrotherapy from the Cévennes Mountains
Far more than ordinary spring water, Avène is rooted in dermatology and hydrotherapy, backed by more than 300 clinical studies, offering customers 260 years of expertise managing all skin types.
A 40-year journey through the Cévennes Mountains in Southwest France allows the thermal spring water in Avène to acquire a perfectly balanced mineral composition. As it courses through underground reservoirs, the thermal waters are gradually enriched with trace elements and silicates. These healing concentrations are the foundation for all Avène skin products and also provide many benefits for guests at our hydrotherapy center.
So whether you have normal or sensitive skin, and want to soothe, calm, and soften your skin, Avène is here to help.
PSP®
SKIN NOURISHING TECHNOLOGY, CLINICALLY DEMONSTRATED TO HELP DIMINISH THE APPEARANCE OF SKIN AGING!
Discovered through years of research in wound healing, PSP®, which stands for 'Processed Skin Cell Proteins', is a patented cosmetic ingredient developed by leading Swiss researchers and available exclusively in NEOCUTIS skincare products.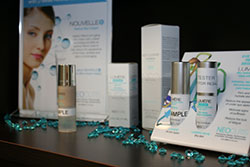 PSP® is the newest generation of an optimal, naturally balanced blend of skin nourishing proteins and polypeptides. PSP® harnesses the power of human growth factors and cytokines, to help deliver state-of-the-art skin revitalization.
MOBILE CUSTOMER LOYALTY PROGRAM

To maintain and improve skin health, an effective skincare regimen must contain three fundamental elements: Prevention, Protection, and Correction. The SkinCeuticals product philosophy is built around these principles. Designed to prevent future damage, protect healthy skin, and correct previous damage, SkinCeuticals is committed to advanced skincare products that are backed by science.

JUVÉDERM® XC is a smooth gel filler that can instantly smooth away wrinkles around your mouth and nose. With just one treatment, you'll get smooth and natural-looking results.
JUVÉDERM® XC is manufactured using HYLACROSS™ technology, creating a smooth-consistency gel. It is infused with lidocaine to improve comfort during treatment.
Everyone will notice, but no one will know.
Discover the proven results that 11 million women and men have experienced.
With real, noticeable results, no surgery and no recovery time, there are many reasons why BOTOX® Cosmetic has been chosen by millions of women and their doctors.
BOTOX® Cosmetic may be the one for you. You may feel that the moderate to severe glabellar lines between your brows make you look tired or unapproachable, or have other reasons for being curious about BOTOX® Cosmetic. Ask about BOTOX® Cosmetic to find out if it is right for you.

Brilliant Distinctions® is the only program that rewards you with points to redeem toward instant savings on Allergan facial aesthetic treatments and products, such as:
BOTOX® Cosmetic (onabotulinumtoxinA)
JUVÉDERM® XC Injectable Gel Filler
LATISSE® (bimatoprost ophthalmic solution) 0.03%
SkinMedica® products
You can also earn points when you shop online at your favorite retailers in the Brilliant Distinctions® Mall.

Download the Brilliant Distinctions app to keep track of your rewards.